The Edge Mattress
Introducing the Edge - an American-made memory foam mattress, complete with a state-of-the-art cooling cover. Crafted to deliver the same level of pain-reducing support and high-end comfort as mattresses costing twice as much. Made with CertiPUR-US certified foams, this mattress cradles you in comfort while promoting proper circulation and spinal alignment.
As a leading USA-based brand, we stand behind everything we make 100% and are committed to providing you with premium products for improving your quality of life. That's why we invite you to sleep on your mattress for 120 nights (or days) in the comfort of your own home. If you're not completely satisfied, you can return it for a full refund.
All Viscosoft purchases receive fast and free shipping, coast to coast. Delivery times vary based on the product ordered. Most products are delivered within 3 business days because we want to get you sleeping better as soon as possible. 
We believe in the quality and durability of our products, which is why we provide a 10-year warranty on all ViscoSoft mattresses. To view the full warranty and register your purchase, please 
click here
.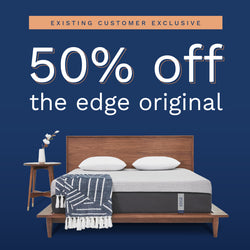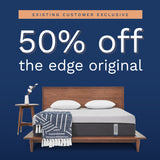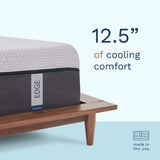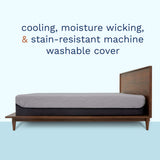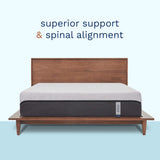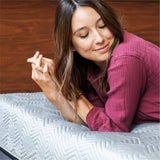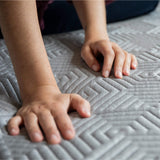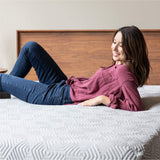 introducing the edge original mattress
perfectly engineered cooling mattress

an aligned spine for better sleep
THOUGHTFULLY DESIGNED
The Edge mattress was thoughtfully designed with two principal features in mind: support and pressure relief. Unlike many other mattresses that relegate the more supportive foam layers to the bottom, Edge's unique composition includes a 2" layer of high-density, silver-infused foam at the top of the mattress, instantly delivering the feeling of support and stability necessary for proper spinal alignment. This spinal alignment will reduce discomfort and pain both in and out of bed.
a system designed to work together
THE DEEPEST SLEEP POSSIBLE
Once your body settles into the Edge you'll feel the softer, more conforming foam from the two middle layers begin to follow the shape of your body. Proper contouring will immediately relieve pressure and improve your circulation. This means no more tossing and turning. In turn, you'll sleep deeper and wake up feeling well-rested. While these transition foam layers do follow the shape of your body they are also designed to be resilient enough to bounce back quickly, so you never feel that sticky, sinking feeling that comes with many other foams.
say hello to the coolest cover you've ever met
STAY COOL AND DRY
Meet our phase changing cooling cover. This revolutionary cool-to-the touch fabric can take you by surprise, and even better, it can lull you to sleep. Knitted with phase-changing yarn, this cover rapidly cools to the ambient temperature of the room to keep your body at an optimal temperature for deep and consistent sleep. Better yet, this material is moisture wicking and stain resistant so you and your mattress will stay dry and clean night after night.
sleep better for as low as $42/month
Financing as low as 0% APR
REVIEWS FROM PEOPLE LIKE YOU
prepare to be amazed
Courtney J.
Verified Buyer
LOVE! Great through pregnancy
The best I've slept since I was a child. It supports every curve without being too hard or soft. Also, we bought this soon after I became pregnant with our third child. After the pain caused by our mattress with my previous two pregnancies, I knew I needed better. And while I still need a few support pillows, I'm not struggling with the awful hip and back pain I did when pregnant before. Love love love this mattress, and can't wait to enjoy it pregnant-tummy free soon!
Benjamin L.
Verified Buyer
Legit
Super picky and super hot sleeper and this mattress is near perfect. Constantly cool to the touch. Firmness and support are just right. Glad I found it
Victoria K.
Verified Buyer
Ahhhhhhhhhhhhh :)
It's really supportive but has enough give to relax into (I find I bounce off spring mattresses and hate that feel.) After a week, my back is feeling much different. Pretty wonderful. Also, it looks nice: looks and feels like luxury, at a much fairer price than some of the more hyped mattresses. Delivery Read more about review stating Ahhhhhhhhhhhhhhh :)was easy too.
No more waking aches & pains
We got the Edge because of the cooling layer because I can't sleep when I feel hot. I was waking up with random aches and pains with our old mattress, but now, I sleep throughout the night and wake up refreshed. Life changing!
My husband and I
My husband and I went to a furniture store and sat on the most wonderful $6000 bed. Their best, according to the salesman, who also told me he "never heard of a bed that has cooling technology. That sounds like a scam." My Edge bed is better than that $6000 mattress.
Absolutely recommend
Very happy with our king-size Edge mattress. Medium softness, excellent texture, comfortable temperature, zero wear/tear. Would absolutely recommend to a friend. Can't think of any downsides.
three years of accident protection included with purchase
With your purchase of the Edge mattress we include 3 years of accident protection, powered by Mulberry, absolutely free. This covers rips, tears, spills, stains, smells, and pretty close to anything else you could imagine. If 3 years isn't enough, you can get up to 10 for an additional fee. Accidents are a part of life so don't get mad, get covered.
go to sleep knowing you made the right choice
SEE HOW WE STACK UP
*Information accurate as of March 30th, 2022.*
get to sleep faster with
free shipping & returns
ONE LESS THING TO KEEP YOU UP AT NIGHT
We stand behind everything we make. That's why we offer a 120 night sleep trial guarantee on our mattresses.

We believe in the quality & durability of our products, which is why we provide a 10-year warranty on all Viscosoft mattresses.

Every single Viscosoft product receives free shipping, from coast to coast.

Delivered to your doorstep in a week or less.
check out how the edge original and edge hybrid compare
looking for something a little different?
Yes! No box spring is required and it is compatible with all bed frames, including adjustable ones.
This mattress is medium firm. If you are looking for something a little softer, check out our Edge Hybrid.
For a clearer understanding of the differences please check out our comparison page by clicking here
Yes, both the Edge Original mattress and Edge Hybrid mattress are 12" deep, and made right here in America using only the highest quality CertiPUR-US® certified foam and wrapped in a luxurious, removable cover that is cool to the touch and machine washable.
This certification means that the foam in the bedding or upholstered furniture has been tested to meet CertiPUR-US rigorous standards for emissions, content, performance, durability, and is made without ozone depleting materials. Whether or not your product holds this badge is a good indicator of it's quality.
In general it is recommended that you buy a new mattress once every ten years however this varies from mattress to mattress. If the Mattress quality is only sub par initially, it will not last as long.
Yes! The Edge mattress features a removable cover to make cleaning your mattress easy. 
To clean your cover, completely unzip the top portion of the cover from the bottom. Remove the top cover & wash in cold water on the gentle cycle. Tumble dry low. 
Do not iron or dry clean. Do not wash the bottom cover. 
No! If you sleep on this mattress the wrong way you'll begin to wonder why we have so many great reviews. Please only sleep with the grey, cooling material face up.
Nope! Our mattresses are versatile for all surfaces. You can place it directly on the floor, on platform & adjustable bases, slatted frames or box spring. We recommend you use a firm, non-spring foundation or a bed frame with slats that are less than 4 inches apart to ensure proper support. Whichever frame you want our mattress is set to provide you the comfort and support you need and want!
Your Edge mattress will perk up in a matter of minutes, but we generally recommend up to 24 hours for full expansion. 
Twin- 39" x 70" x 12.5"
Twin XL- 39" x 80" x 12.5" 
Full- 54" x 75" x 12.5"
Queen- 60" x 80" x 12.5"
King- 76" x 80" x 12.5"
Cal King- 72" x 84" x 12.5"