The React Hybrid Mattress
Introducing the React mattress from Viscosoft, an affordable and luxurious sleep experience starting at $699.95.
Our newest generation hybrid mattress remains affordable while still utilizing all US-made materials. The quality of this mattress will support great sleep for years to come! 

React offers a gel-injected memory foam designed to promote a temperature-neutral sleep environment and contouring support across your entire body.
As a leading USA-based brand, we stand behind everything we make 100% and are committed to providing you with premium products for improving your quality of life. That's why we invite you to sleep on your mattress for 120 nights (or days) in the comfort of your own home. If you're not completely satisfied, you can return it for a full refund.
All Viscosoft purchases receive fast and free shipping, coast to coast. Delivery times vary based on the product ordered. Most products are delivered within 3 business days because we want to get you sleeping better as soon as possible. 
We believe in the quality and durability of our products, which is why we provide a 10-year warranty on all ViscoSoft mattresses. To view the full warranty and register your purchase, please 
click here
.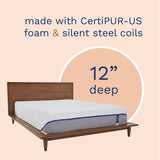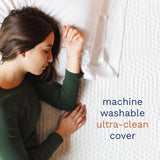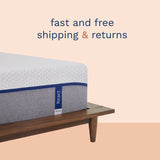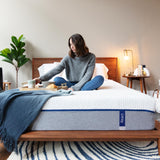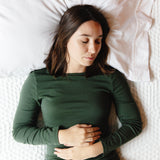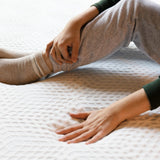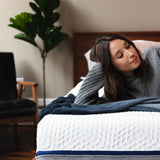 The React Hybrid Mattress
there's a mattress for everyone
& this one's for you
MEET THE REACT

align your spine comfortably
HIGH DENSITY MEMORY FOAM
Positioned at the top of this mattress, our award winning high density memory foam instantly provides support for superior spinal alignment with just the right level of firmness. Soft enough to cradle yet firm enough to support your spinal health and prevent sinking, this mattress will change the way you sleep without breaking the bank. The React is also made with CertiPUR-US certified materials which guarantees a less toxic, more sustainable, and higher quality sleep experience than it's alternatives. test.
conforming comfort & pressure relief for every body
THE ONE TWO PUNCH
Whether you're short, tall, heavy set, or petite, this mattress will provide the pressure relief that you're looking for. We've combined the unparalleled comfort of traditional and gel infused memory foams with the responsive conformability of individually pocketed steel spring coils. Each coil reacts independently of it's neighbors and conforms to your body's unique shape to provide superior relief while keeping your spine aligned.
sharing your bed shouldn't mean losing sleep
ELIMINAtes motion transfer
Family time is important but so is quality sleep. Eliminate motion transfer with four layers of motion absorbing foam. Whether you're sharing your bed with a partner, a child, or a pet, having a mattress that eliminates motion transfer can be life changing. Gone are the days that their tossing and turning, frequent bathroom visits, and midnight snacks keep you up. Cheers to sweet dreams and perfect nights.
support from one end to another
SUPERIOR EDGE SUPPORT
Our revolutionary foam encased silent steel coils create the utitmate foundation for any body type and hold up where others may fail. Optimized for even the largest individuals, you will be amazed by the excellent edge support that this mattress provides. No matter where or how you're positioned, you'll never experience that dreaded "quicksand" feeling again.
Proud donors to a cause we believe in
The Shepherd Hotel
We have been honored to donate all of the mattresses and mattress toppers to the Shepherd Hotel in Clemson, SC and hope to have contributed to the well being of each guest. The Shepherd hotel embodies such a genuine ethos through their mission and their staff, staying true to authenticity, community, and the creation of moments that touch the heart. That's a mission that we're grateful to support.
reviews from customers like you
see what people are saying
2 weeks in so far...
Love this! My sleep has dramatically improved. I do not want to get up for work in the morning!!
Arrived on time, great follow up!
Arrived time, great follow up by company to ensure satisfaction, only had product short time but it seems to be good quality, comfortable and meets our expectations.
This has been the best!
This has been the best thing to happen to my life besides my family and job! This has provided me with so many restful nights with no more back pain no more discomfort! Ordering more for my kids now!
Sleeping like a baby.
Sleeping like a baby over here! Item arrived very fast and was even better than described. I stay cool all night and very comfortable. I have arthritis in both hips so side sleeping has been a real problem for me until now! No sore spots, no aches during the night that wake me. I wish I would have bought this years ago!
What 5 stars means to me.
5 stars means to me that the product satisfied my every need. I may be asking too much. I have bad back issues in my upper and lower. This product has done a good job easing some of the discomfort. That in itself has been very welcomed. My other half loves It! She says she just sinks into bed now and doesn't want to get out. It's a very good product I would recommend.
Good Night's Sleep
Mattress is everything advertised...I have a very bad back and this mattress is helping me get a good night's sleep.
sleep better for as low as $58/month
Financing as low as 0% APR
get to sleep faster with
free shipping & returns
ONE LESS THING TO KEEP YOU UP AT NIGHT
three years of accident protection included with purchase
With your purchase of the Edge mattress we include 3 years of accident protection, powered by Mulberry, absolutely free. This covers rips, tears, spills, stains, smells, and pretty close to anything else you could imasgine. If 3 years isn't enough, you can get up to 10 for an additional fee. Accidents are a part of life so don't get mad, get covered.
We stand behind everything we make. That's why we offer a 120 night sleep trial guarantee on our mattresses.

We believe in the quality & durability of our products, which is why we provide a 10-year warranty on all Viscosoft mattresses.

Every single Viscosoft product receives free shipping, from coast to coast.

Delivered in a week or less.