Hover Ergonomic Pillow
Our ergonomic latex pillow features a plush, quilted fabric and a curved shape that contours your shoulders. This design is engineered to promote proper spinal alignment, thus relieving pressure on your head and neck. It's available in 3 different loft levels and is equipped with a removable, machine washable cover.
Curved, ergonomic shape
Shredded Latex foam filling
Plush, breathable & machine washable cover
Available in Low, Medium & High Loft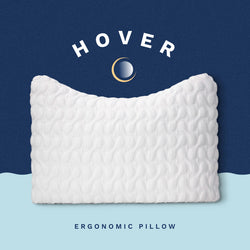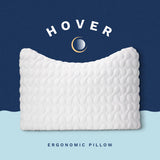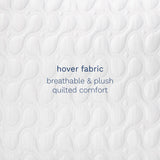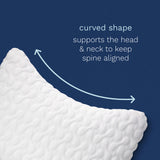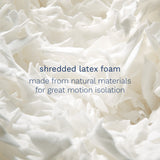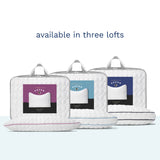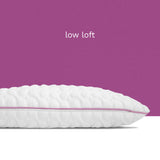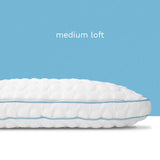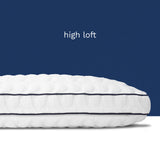 available in 3 different loft levels

contour supports head & neck

helps promote spine alignment

eases pressure on neck & shoulders

removable, washable cover
Curved for support
Ergonomic Shape
Ideally, your pillow should cradle and support your head and neck throughout the night. The ergonomic curved shape of the Hover pillow is designed to follow and hug the natural shape of your shoulders, offering you more support while you sleep. This design is also a great option for those who prefer to sleep with a pillow between their legs for better spine alignment. 
natural latex fibers
Responsive comfort
We use shredded latex foam to fill out this pillow for a multitude of reasons. Latex is made from all-natural materials, has great motion isolation, and is known for it's responsive nature. These aspects of latex make the pillow super supportive, and then the shredded aspect allows it to conform to your body's natural curves.
How to choose the right pillow loft
Picking the right pillow height
The right pillow should keep your head, neck and spine in neutral alignment throughout the night. Your preferred sleep position and body type will help determine which loft is the perfect fit for you.
We recommend our low loft pillow to stomach sleepers or those with a petite build. Using a low loft while sleeping on your stomach will help reduce the risk of back strain and keep your spine neutral.

We recommend our medium loft pillow to back sleepers or side sleepers with a petite to average build. It's also the goldilocks of lofts, for those who tend to switch sleep positions throughout the night.

We recommend our high loft pillow specifically to side sleepers with average to broad shoulders. Higher loft pillows will help relieve pressure in your shoulder and keep your spine in neutral alignment.
Get the Hover Pillow at 50% off
with the purchase of a mattress topper