The Edge Hybrid Mattress
Introducing the Edge Hybrid - an American-made memory foam mattress, complete with a state-of-the-art cooling cover. Crafted to deliver the same level of pain-reducing support and high-end comfort as mattresses costing twice as much. The Edge Hybrid is constructed with both memory foam and coils to offer superior edge support, stability, and cooling airflow technology.
As a leading USA-based brand, we stand behind everything we make 100% and are committed to providing you with premium products for improving your quality of life. That's why we invite you to sleep on your mattress for 120 nights (or days) in the comfort of your own home. If you're not completely satisfied, you can return it for a full refund.
All Viscosoft purchases receive fast and free shipping, coast to coast. Delivery times vary based on the product ordered. Most products are delivered within 3 business days because we want to get you sleeping better as soon as possible. 
We believe in the quality and durability of our products, which is why we provide a 10-year warranty on all ViscoSoft mattresses. To view the full warranty and register your purchase, please 
click here
.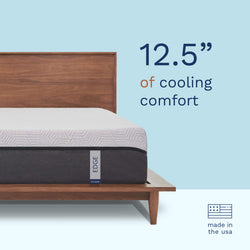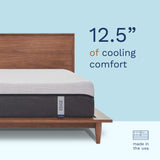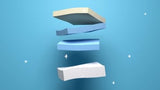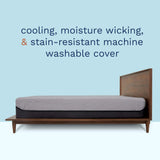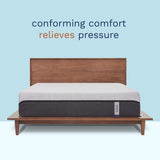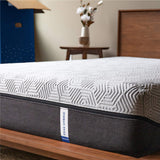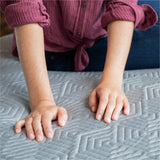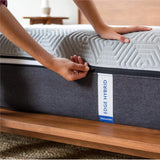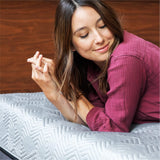 edge hybrid: the best of both worlds
EXPERIENCE THE BALANCE OF CONTOUR & SUPPORT

edge makes sleep better
from performance to price
Discover why the Edge Hybrid is the best value mattress on the internet.
Let's talk about Edge
increase circulation & ease pain
NO MORE TOSSING AND TURNING
Slightly softer than our original all-foam Edge mattres, the hybrid offers superior contouring abilities. We combined the responsiveness of individually pocketed spring coils with the cradling comfort of our award-winning serene memory foam. The result? A well-rounded mattress that envelopes you in comfort and helps eliminate aches and pains. This hybrid design also allows for maximum airflow, so get ready to hit snooze and leave those sweaty nights in the past.
never get dumped again
EDGE TO EDGE SUPPORT
Edge support is critical, especially for some of our larger friends. 9-gauge steel springs individually wrapped & encased in foam provide excellent edge support so you can get in and out of bed with ease. It doesn't matter if you sleep on the Edge of the bed or if some kiddos or pets crowd you in that direction; our superior edge support has got you covered.
there's no such thing as one size fits all
great for couples
At the end of the day, how memory foam feels from one person to the next will vary based on body size, shape, sleeping position, and preference. The addition of our hybrid springs brings a level of conformability that is remarkably well suited for couples with different needs. The ensemble of 600+ individually pocketed spring coils delivers one of the most conforming and adaptable sleep experiences available for any body type. In addition to this the memory foam absorbs a significant amount of motion transfer so your partners frequent bathroom trips won't make you toss and turn.
say hello to the coolest cover on earth
stay cool and dry
Meet our phase changing cooling cover. This revolutionary cool-to-the touch fabric can take you by surprise, and even better, it can lull you to sleep. Knitted with phase-changing yarn, this cover rapidly cools to the ambient temperature of the room to keep your body at an optimal temperature for deep and consistent sleep. Better yet, this material is moisture wicking and stain resistant so you and your mattress will stay dry and clean night after night.
sleep better for as low as $84/month
Financing as low as 0% APR
reviews from customers like you
see what people are saying
Excellent mattress!
We purchased the Edge Hybrid mattress, along with two cold wire pillows and are loving them! The firmness is a perfect medium, the mattress was easy to unpack and the online buying experience was simple and easy.
We love this mattress!
Living in south FL, my wife and I wanted a memory foam mattress that sleeps cool. We decided to take a chance on the Edge. We love it. We purchased the medium mattress and it is a well-balanced mattress that keeps us sleeping comfortably through the night.
Hybrid Queen
Excellent bed, soft, cool, comfy, supportive and thick. 4 months on this bed. Great quality and customer service. No need to look further.
Well made
Edge is a bed of excellent quality. The cooling material in the liner is amazing. The liner itself is top quality matching that of Tempur-pedic. Customer service is 5 stars. Highly recommend trying this bed
No more hesitation!
Very comfortable. You don't get that stuck feeling. Edge support is amazing. I was worried about getting over heated but the mattress stays cool. You won'tbe disappointed!
Absolutely recommend
Very happy with our king-size Edge mattress. Medium softness, excellent texture, comfortable temperature, zero wear/tear. Would absolutely recommend to a friend. Can't think of any downsides.
go to sleep knowing you made the right choice
see how we stack up
*Information accurate as of March 30th, 2022.
get to sleep faster with
free shipping & returns
ONE LESS THING TO KEEP YOU UP AT NIGHT
three years of accident protection included with purchase
With your purchase of the Edge mattress we include 3 years of accident protection, powered by Mulberry, absolutely free. This covers rips, tears, spills, stains, smells, and pretty close to anything else you could imasgine. If 3 years isn't enough, you can get up to 10 for an additional fee. Accidents are a part of life so don't get mad, get covered.
We stand behind everything we make. That's why we offer a 120 night sleep trial guarantee on our mattresses.

We believe in the quality & durability of our products, which is why we provide a 10-year warranty on all Viscosoft mattresses.

Every single Viscosoft product receives free shipping, from coast to coast.

Delivered in a week or less.
checkout how the edge original and edge hybrid compare
Find Your Perfect Mattress