Select High Density Mattress Topper - Infused
We infused the high-density foam from our best-selling topper to create a new option for better sleep. Natural lavender. The high-density foam in this infused-topper supports the body's weight to keep you lifted and contours to curves alleviating back, neck, and joint pain.
3 inches of 3.5 lbs. gel-infused memory foam

Breathable, washable cover       
Adjustable straps & slip-resistant mesh

A mild lavender infusion promotes a calm & relaxing sleep environment
90-Day Guarantee: As a leading USA-based brand, we stand behind everything we make 100% and are committed to providing you with premium products for improving your quality of life. If for any reason you are not completely satisfied with your Viscosoft.com purchase, we offer a full refund within 90 days of purchase.* Please visit our returns page for more information.
5-Year Warranty: We believe in the quality of our products, which is why we provide a 5-year warranty on all of our products. To view the full warranty and register your purchase, please click here.
Our goal is to get you sleeping better as soon as possible.  All Viscosoft purchases receive fast and free shipping, coast to coast. Delivery times vary based on the product ordered. Most products are delivered within 3 business days. 
Orders must be placed before 2pm EST to ship same day.  Orders placed after 2p EST will ship the following day.
We believe in the quality and durability of our products, which is why we provide a
5-year warranty
on all Viscosoft toppers.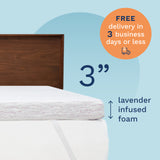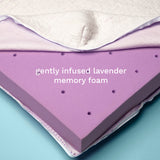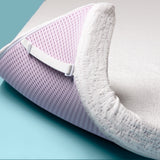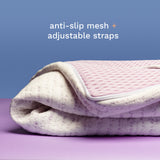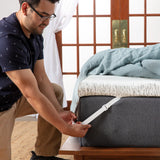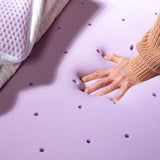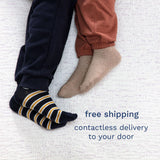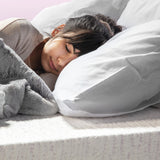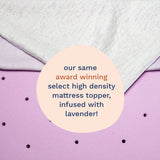 Select High Density Mattress Topper - Infused
infused for even better sleep
our best selling topper
Stylish comfort, support & pressure relief
eliminates motion
transfer
the support you need
HIGH DENSITY MEMORY FOAM
Select High Density foam delivers a medium-firm feel.  When you first lie on the topper it 'gives' under your weight but quickly pushes back as your body settles. The foam's density contributes to the creation of a luxurious sleep surface, and has proven to maintain its effectiveness longer than most toppers.
easy care & secure fit
WORRY-FREE COMFORT
The topper includes a removable, machine washable cover to create the cleanest sleep surface possible. The cover's breathable mesh bottom and adjustable straps ensure a secure, no-slip fit with your mattress. A stylish design matches the foam inside and will make you think twice before concealing it with bedding.
who is this topper best for
what you need to know
Our Select High Density topper is best for you if you have an older mattress that needs increased support or a mattress that is too soft and needs additional firmness. This topper is also excellent for those dealing with chronic pain as it has superior pressure point relief, provides spinal alignment, and increases circulation.
the benefits of lavender
our best selling topper: infused
Lavender has naturally soothing properties. A mild infusion is matched with beautiful tones that promote calm and easily carry you into restful, restorative sleep.
The most sought-after college mattress toppers
Sleep like you never left home
More than a few industry experts have voted Viscosoft a best topper for the college dorms.  High-density, durable foam will deliver support all four years & then some! The innovative, washable covers will keep your sleep space cool & clean after each trip back to campus in the fall.
enjoy interest-free installments with afterpay