Serene Hybrid Mattress Topper

A luxurious mattress topper that balances the support of memory foam with the plush comfort of a down alternative, pillow-top cover. This unique combination alleviates hip & shoulder pain and relieves pressure points for side and multi-position sleepers experiencing discomfort from a mattress that is too firm.  Makes any bed instantly look and feel amazing.
A layer of gel-infused, CertiPUR-US memory foam
A 300-thread count, washable, cover
18" deep-pocket, elastic skirt
Adjustable, anti-slip straps
Good Housekeeping's Best Bedding Award Winner - Best Hybrid Mattress Topper. 
90-Day Guarantee: As a leading USA-based brand, we stand behind everything we make 100% and are committed to providing you with premium products for improving your quality of life. If for any reason you are not completely satisfied with your Viscosoft.com purchase, we offer a full refund within 90 days of purchase.* Please visit our returns page for more information.
5-Year Warranty: We believe in the quality of our products, which is why we provide a 5-year warranty on all of our products. To view the full warranty and register your purchase, please click here.
Our goal is to get you sleeping better as soon as possible.  All Viscosoft purchases receive fast and free shipping, coast to coast. Delivery times vary based on the product ordered. Most products are delivered within 3 business days. 
Orders must be placed before 2pm EST to ship same day.  Orders placed after 2p EST will ship the following day.
We believe in the quality and durability of our products, which is why we provide a
5-year warranty
on all Viscosoft toppers.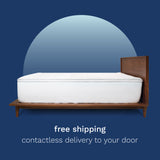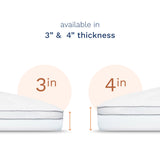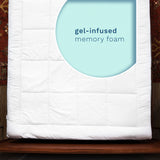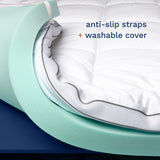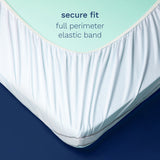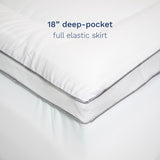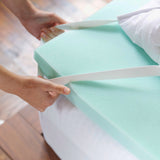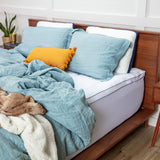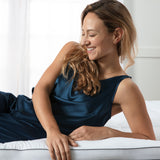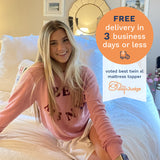 Serene Hybrid Mattress Topper
plush quilting & premium comfort
drift into a great night of sleep
plush pillow top &
supportive foam

eliminates
motion transfer
HOMEWORK IS HARD
6 answers to get you started
Get to know this topper.
can you take
off the cover?
You sure can!
Nope! It attaches to the mattress.
Most definitely!
how do i store
the topper?
In the unlikely event...
enjoy the most refreshing sleep of your life
all night comfort
Our premium 4-inch, hybrid mattress topper will transform any sleep experience with two layers of cooling support. 2.5 inches of gel-infused memory foam plus 1.5 inches of a down-alternative cover. This plush mattress topper will enhance any master suite or guest bedroom in your home. And, the pillow-top cover that comes with this generous topper can easily be removed and washed to keep the sleep environment clean and healthy.
If your current mattress only needs a hint of extra comfort, the hybrid topper also offers a 3-inch option (2 inches of gel-infused memory foam).
plush down alternative cover
a luxurious combination
Every Serene Hybrid topper comes with a 300 thread count, pillow top cover featuring a plush 400gsm down alternative-fill that provides a quilted layer between you and the memory foam. The cover is also equipped with adjustable straps and a fully-elastic skirt to ensure the topper will stay in place and never slide.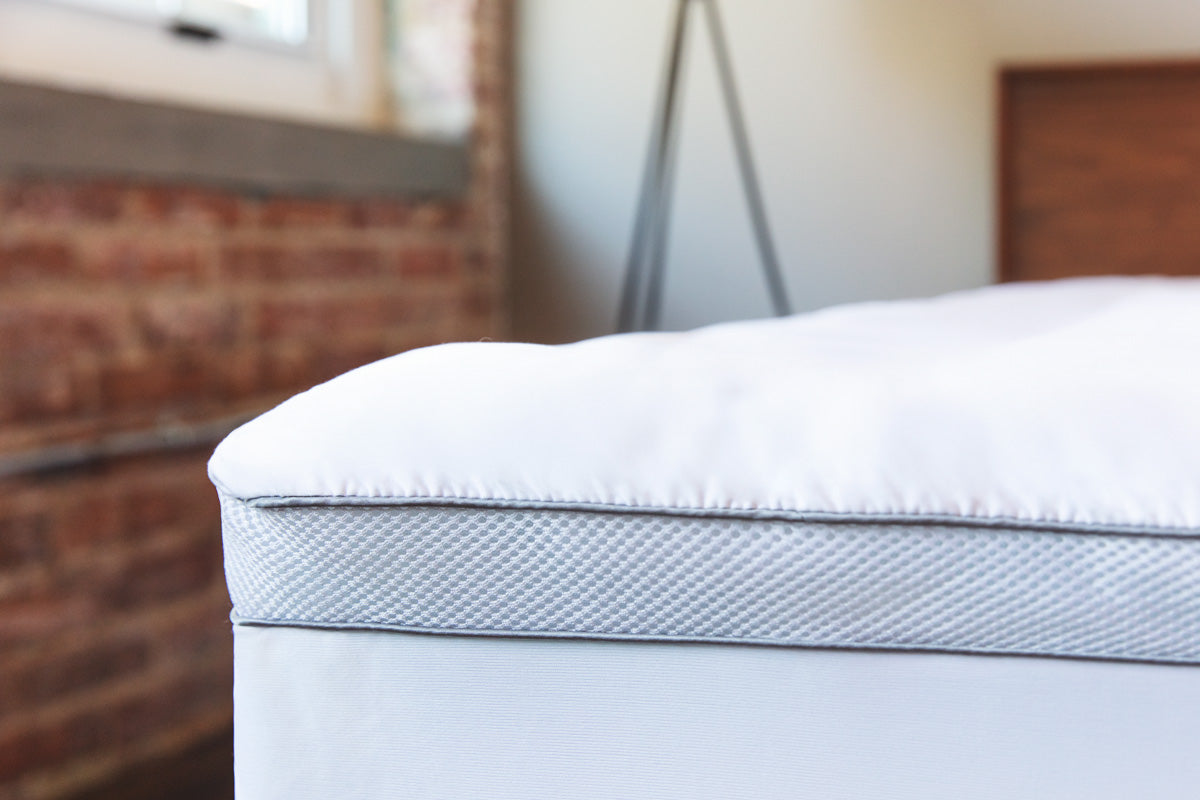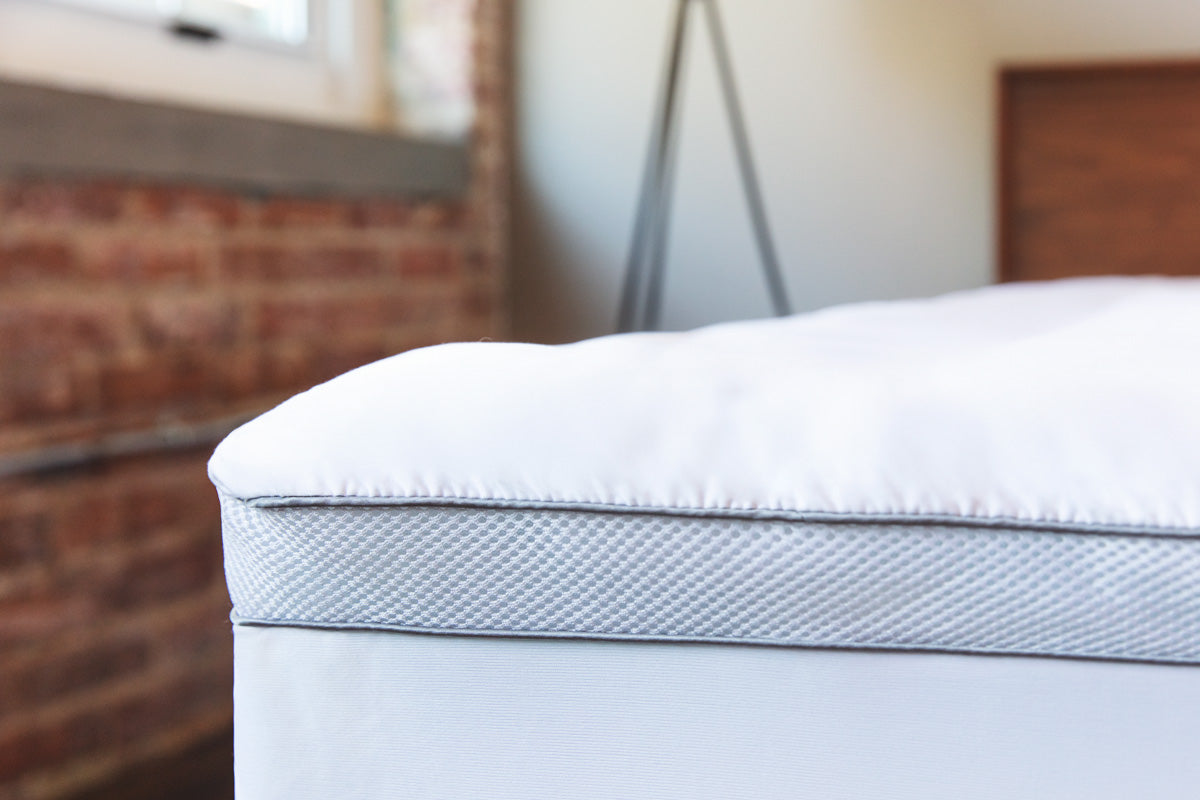 comfort & support for your college dorm bed
the best sleep on campus
College dorms are built for efficiency, not comfort. Voted Best Twin XL mattress topper by industry experts, our topper is designed to help you sleep better while on campus. Your studies and social life will benefit from a better night's sleep.
secure fit
An 18" deep-pocket elastic skirt secures the topper to your mattress just like a fitted sheet.
breathable
plush down alternative for maximum airflow
cooling
US-Made gel-infused memory foam keeps you from sleeping hot
secure fit
An 18" deep-pocket elastic skirt secures the topper to your mattress just like a fitted sheet.
breathable
plush down alternative for maximum airflow
cooling
US-Made gel-infused memory foam keeps you from sleeping hot
from others like you
serene hybrid reviews - wall of fame
pretty amazing.
This thing is a game changer. I am getting neuropathy and was waking up in pain. I was sleeping poorly and was ready to spend a small fortune on a new mattress. I tried this and could not believe the difference. Why did I not try this solution 10 years ago.
this topper has transformed my bed!
I researched online quite a bit before deciding on ViscoSoft for my topper. I chose this brand because it was American made, free of harmful chemicals and the combination of gel foam with a plush pad cover intrigued me. The price was very reasonable, I was almost afraid I wouldn't be happy with the product because it was so much cheaper than many of the more popular brands but I was in for a wonderful surprise! The order arrived quickly and the packaging was beautifully designed and a treat to open. There were no funny smells from the foam. The topper is thoughtfully designed and so soft! I couldn't be more happy with this purchase.
excellent topper! very satisfied
My daughter's college apartment bed came with a plastic mattress. This topper has been a fantastic purchase and has finally given her the comfortable mattress she needs to get a good night's sleep.
made an uncomfortable bed very comfortable
This product was exactly as described. We had a new guest bed that needed comfort and this product did the trick. We may even get another one for our master bed.
twin toppers for old mattresses
My order arrived quickly. Wonderful packaging. Put on beds right away as had family visiting who would be using the beds. Everyone loved the topper. Son had complained about back pain on the mattress slept soundly with no pain. I am thinking about ordering one for another bed. The quality was wonderful.
great buy!
I got this cause I am pregnant and my bed was becoming to hard and giving me back and hip pain. This pad has helped to much. I'm able to sleep at night again. I've had it three months and love it. There was no smell when I opened it and plumped right up. Would definitely buy again. I have recommended it to friends and I am ordering one for my daughters bed.
crafted responsibly
certipur-us memory foam
The supportive layer of this hybrid topper is made in the USA from certified, CertiPUR-US foam.  Our gel-infused foam is tested to ensure it meets multiple comfort and durability standards for all sleep positions while remaining free of any ozone-deleting materials.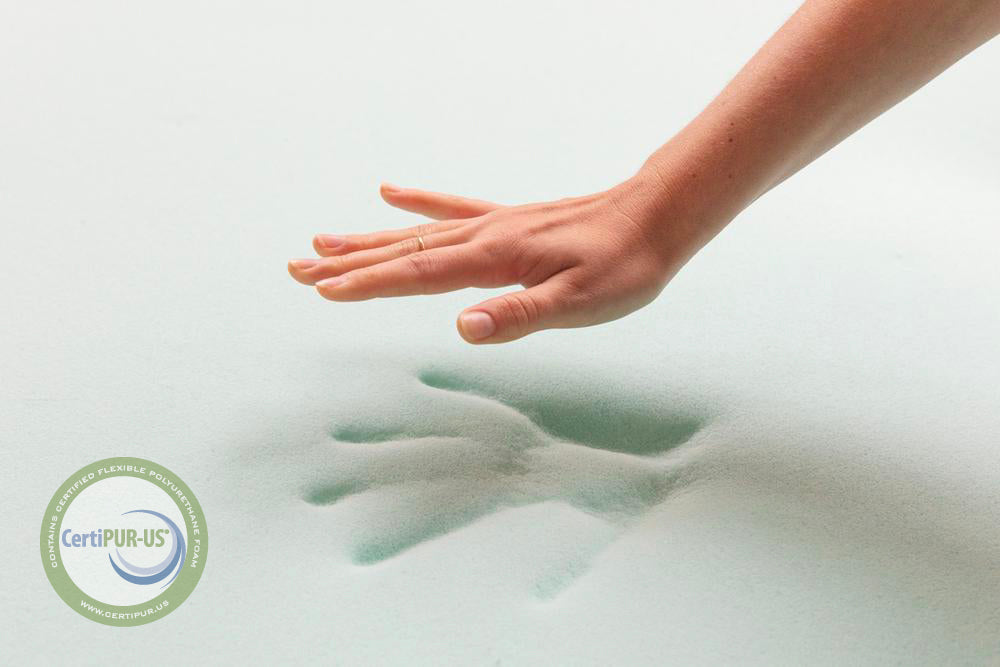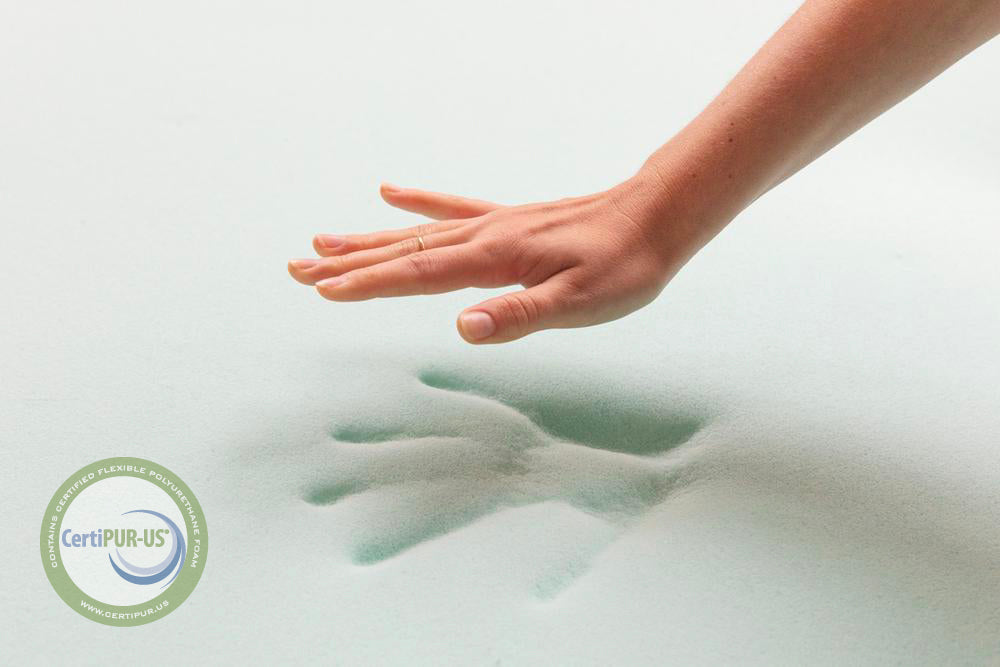 luxurious American made quality
a Queen City original
Rather than going overseas, our foam is made here in the United States to ensure the highest quality and durability compared to cheaper alternatives.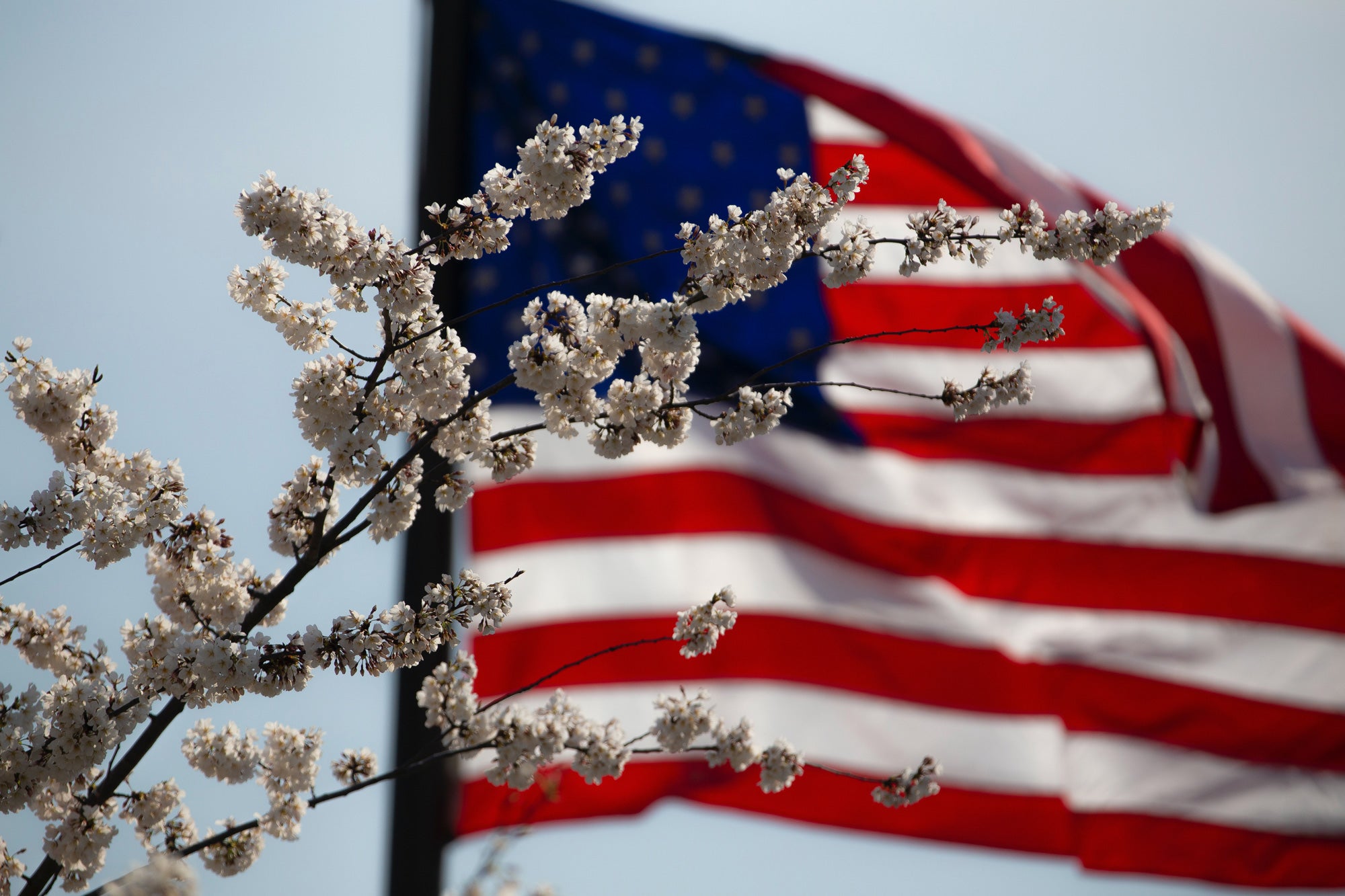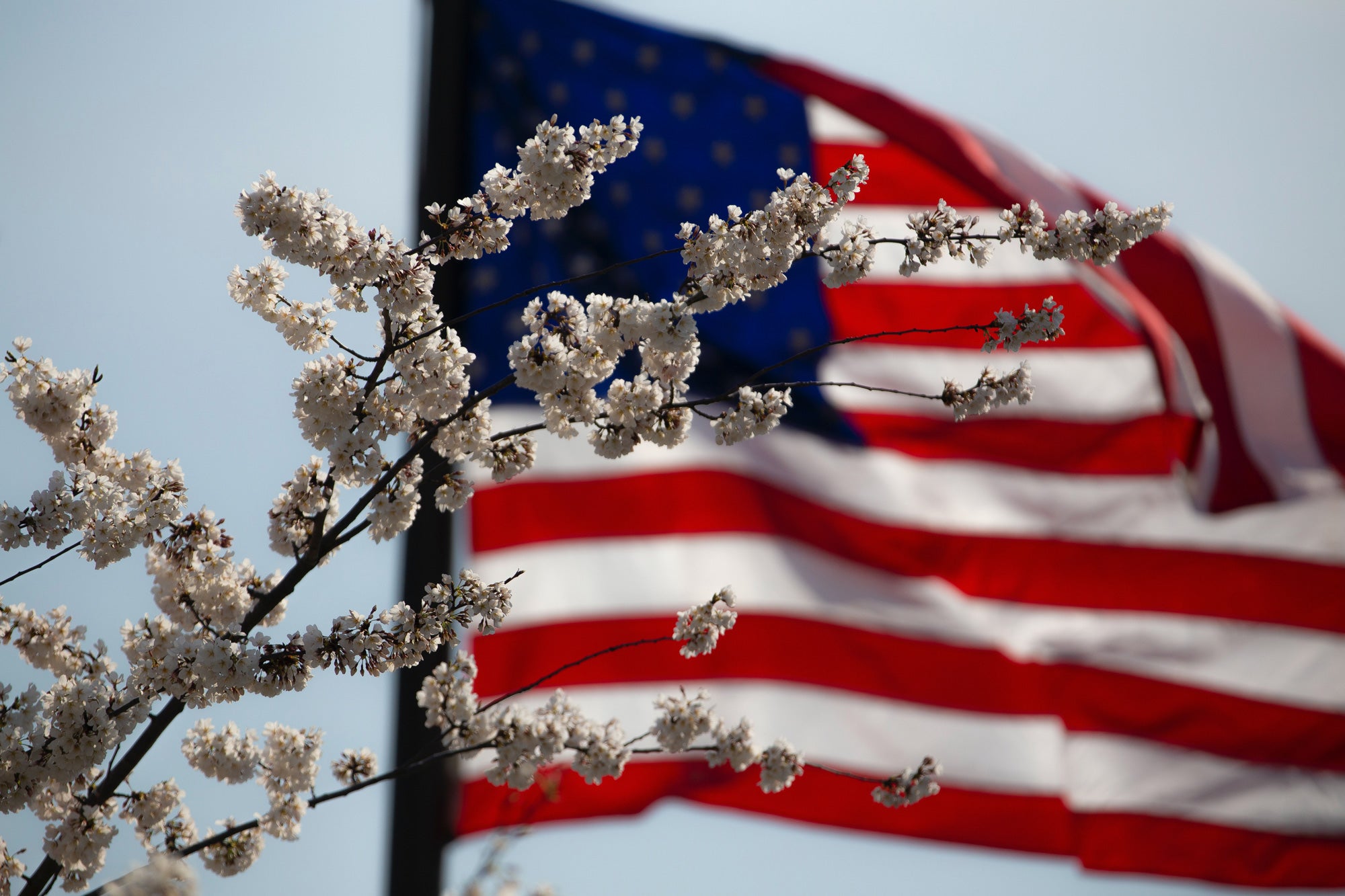 enjoy interest-free installments with afterpay
make life more comfortable
in many situations

Viscosoft's Serene Hybrid Mattress Topper vs. Other Leading Brands

Viscosoft Serene Hybrid Mattress Topper
Tempur-Pedic Adapt Topper
Saatva Memory Foam Topper
 Casper Mattress Topper
Tuft & Needle Mattress Topper
SleepNumber Responsefit Memory Foam Mattress Topper
Layla Memory Foam Topper
Thickness
4 inches
3 inches
1.5 inches
3 inches
2 inches
2 inches
2 inches
Price (Queen)
$249.95
$251.40
$295.00
$299.00
$250.00
$349.99
$249.00
Return Window (Days)
90
0
180
30
100
30
30
Warranty (Years)
7 (registered)
10
1
5
3
1
5
Made in USA/ CertPUR-US
Yes
Yes
Yes
No
Yes
Yes
Yes
Machine Washable Cover
Yes
Yes
No
Yes
No
Yes
Yes
RV (Short Queen) and College Dorm (Twin XL) Sizes Available
Yes
No
No
No
No
No
No
Customer Reviews
1,994
8,276
175
7
1,872
314
620
Review Rating (Stars)
4.5
4.3
4.8
3.9
4.4
4.8
4.5
Information as of: July 20th 2023
Recently manufactured foam can have an unpleasant smell due to off-gassing. Any harmless odor will dissipate within 24-48 hours.
Off-gassing is the result of volatile organic compounds (VOCs) used to make the foam releasing into the air . VOCs are off-gassed from many different types of manufactured products, but their scent is more noticeable from foam.
If any odor persists beyond 48 hours please contact our customer service team and we will be happy to assist.