Active Cooling + Pillow
Fabric wicks away moisture for cooling comfort. Custom-formed, responsive foam combined with blended memory foam clusters relieves pressure, delivers support, and promotes proper spine alignment.  Colored piping, ribbon, and a concealed zipper add a level of elegance and whimsy to these luxurious pillows.
Available in four lofts for a personalized level of comfort.
All Viscosoft purchases receive fast and free shipping, coast to coast. Delivery times vary based on the product ordered. Most products are delivered within 3 business days because we want to get you sleeping better as soon as possible. 
90-Day Guarantee: As a leading USA-based brand, we stand behind everything we make 100% and are committed to providing you with premium products for improving your quality of life. If for any reason you are not completely satisfied with your Viscosoft.com purchase, we offer a full refund within 90 days of purchase.* Please visit our returns page for more information.
5-Year Warranty: We believe in the quality of our products, which is why we provide a 5-year warranty on all of our products. To view the full warranty and register your purchase, please click here.
Dimensions: Standard – 26" long x 18" wide
Loft:  Extra Low - 4" | Low - 5.5" | Medium - 6" | High - 7"
Composition: 88% Shredded memory foam, 12% Microfiber
Fabric: 60% Polyester, 40% Olefin clover fabric design
Manufacturing Origin:  Imported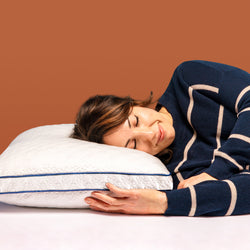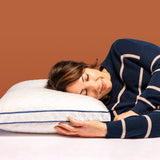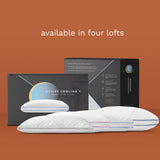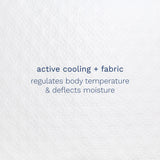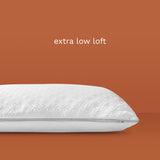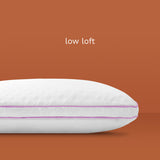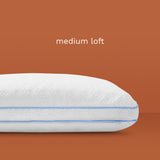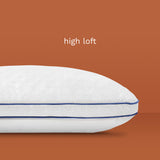 the right pillow might just change your life
choose your own loft
good for all
sleep positions
we flipped your pillow for you
active cooling technology
We all know that feeling of crawling into bed, laying our heads down on a crisp, cool pillow, and letting out that well deserved ahhhhhh. Get that feeling over and over again (without having to flip your pillow) with a our premium active cooling pillow stitched out of the world's coolest yarn. Say goodbye to night sweats and say hello to refreshing sleep.
when two became one
teamwork makes the dream work
This revolutionary approach to a classic memory foam pillow utilizes both cluster foam as well as premium memory foam. Cluster foam is made up of small chunks of memory foam blended with super thin fibers that work together to cradle your neck, body, and shoulders while our responsive, premium memory foam aligns your spine and relieves pressure and pain
don't sweat it, we've got a matching mattress protector too
let us bring it to your doorstep
direct to consumer
With over ten years of experience in the sleep industry, we've positioned ourselves as a key player in the international retail game. Now you can cut out the middle man and get these exclusive products directly from us and delivered quickly to your doorstep.
which loft is right for you?
tips on choosing your perfect pillow
There are a few factors to take into consideration when choosing which pillow loft is right for you. Number one: The bigger the person, the bigger the pillow. If you consider yourself to have a large head and body, opt for a higher loft. Smaller frame? Choose a lower loft. Number two: sleep positions- If youre a back sleeper, choose something in the low to medium range. Side sleeper? Medium to high. Stomach sleeper? Extra low to low. Combination of several sleep positions? Choose something between a low and medium loft.
We stand behind everything we make by offering a 90-Day Guarantee.

We believe in our quality, so we provide a 5-Year Warranty on all of our products.

Every single ViscoSoft product receives free shipping, from coast to coast.

We work hard to have our products delivered to your door as quickly as possible.