ViscoSoft Gel Latex Topper
Gel Latex Topper Test
The Most Balanced Mattress Topper You'll Find
Revitalize any mattress. You don't need to compromise comfort, support, and air flow.
Limited Time Price : ONLY $239.99
"We had our body imprints in our mattress. Started to get not a good night sleep. Came across this product and thought we would try it out... free returns right! We will NOT be returning this. We can not feel the body imprints anymore. Feels like a new mattress. Fits perfectly on our mattress. We had 2 night sleeps so far with this and it's been amazing..." - Briana C. ★★★★★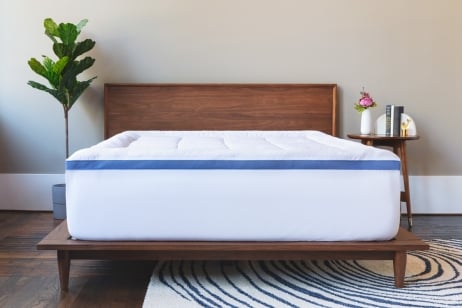 Our American-made, responsive gel-infused latexfoam has a more superior heat transfer coefficientcompared to memory foam toppers since latex naturally sleeps cool, giving your bed a luxurious feel while you sleep comfy and cool all night long.
No more tossing and turning! Our cutting-edge formula has a rebound effect that prevents sinking and aligns your spine to help relieve common pressure points 3x better than comparable products.
The cover features convenient elastic straps on the inside of the cover secure the foam portion inside the cover, while the strong elastic band that goes around the entire skirt secures the topper on any mattress measuring up to 18 inches thick.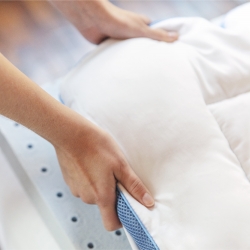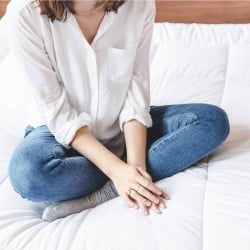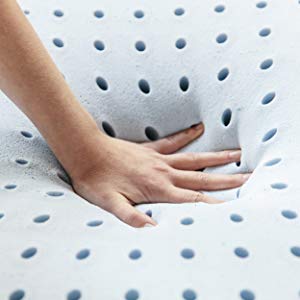 Gel Mattress Topper & Latex Topper in One - Made in USA with revolutionary gel-infused latex foam
Soft Mattress Topper - Comes with 1-inch machine washable pillow top mattress topper cover
Fits Queen Size Mattress - Our firm mattress topper queen dimensions are 60" Wide x 80" Long
Gel mattress topper queen has a unique combination of gel latex foam & plush down alternative cover
60-DAY [NO HASSLE] MONEY BACK GUARANTEE - As a leading USA-based brand, we stand behind everything we make 100% and are committed to providing you with premium products for improving your quality of life. In the unlikely event you change your mind, you're welcome to return your topper for a FULL refund within the first 60 days after purchase. All ViscoSoft toppers are backed by our outstanding 3 year warranty for manufacturing defects
"Thank you thank you thank you! This 3 pound density is exactly what my back and hips needed. All other memory foam toppers that I have tried would have my lower back area sinking way down into them. I would end up with such a neck ache in the mornings. My bed full of animals also says thank you…" - Theresa
★★★★★
"I purchased the ViscoSoft Premium Gel-Infused Memory Foam because of the review mentioning "no more hip-pain" at night. Having fibromyalgia is bad enough. Having horrible hip-pains is another. I have not had even one stabbing hip-pain at night. NOT ONE! I'm able to get a much better "start" in the morning, since I don't have to spend time recovering from the previous night's pains…" - B. Willet

★★★★★
"Absolutely love this bed topper. Made my overpriced hard-as-a-rock Tempurpedic bed nice and comfortable. No longer wake up in traction with backache and sore shoulders and arms. Very rested, not groggy from tossing and turning all night. I researched these toppers for a few months, reading everyone's reviews and chose this one. Best choice ever!" - P. Andrews

★★★★★
"Loving this topper. I've had this for about 6 months. It feels great. I placed it on a fairly cheap, firm-spinged queen mattress. It's like a whole new mattress." - M. Robideaux

★★★★★
"It feels like you are lying on air. It is cool to the touch and comfy. I highly recommend it. I have been having problems sleeping and feeling hot even when A/C is on... Now, I just fall asleep. Like being on a marshmallow." - Stefy G. 
★★★★★
"Extremely comfortable mattress topper. I've dreamt of sleeping on a comfy mattress for as long as I can remember. I'm so glad I ordered this one. This is exactly the kind you want. This topper fit the bill. If you like sleeping on a cloud, this is for you! I love the way it hugs my body while laying and it conforms to my body curves unlike the firm mattress below it. Wish I bought this much sooner…" - Kristy

★★★★★
"I did my research before deciding on the ViscoSoft memory foam pad. I like how the ViscoSoft topper is the same size as my mattress (not cut slightly smaller like some memory foam toppers are). The topper is so comfortable. My body relaxes right into it. I don't have any difficulty rolling over or getting out of bed (other than being so comfortable that I don't want to get out). I absolutely LOVE the ViscoSoft memory foam topper." - Judy

★★★★★
"Dealing with morning stiff back and lower disc issues, I bought an expensive $2,000 mattress set a few years ago to solve this problem, but that was junk. After a lot of research and expensive trial & error, I've finally come up with a mattress / topper combo that turned out to be my miracle. It took about a week for my back to adjust, but after that I woke up pain free in the morning for the first time in years. I am so thankful and grateful something worked I want to shout it to the world!" - J.S. Gal

★★★★★
"We now have a bed that feels so comfortable I actually look forward to going to bed every night. We placed the ViscoSoft topper right over the worn out pillow top and the results are remarkable. It is very supportive without being overly firm and we have found that to be true in any sleeping position. I feel we really got a great value for the money. I couldn't be more pleased." - Robert W.
★★★★★
"Great density and thickness. You can tell it's very high quality. Even the cover is very high quality. It's extremely comfortable, and you can tell how the density makes a difference (supporting your body vs. just giving way). Best quality topper for the price." - Laura 
★★★★★

"EXACTLY what I was looking for! I'm a side sleeper and this is the best thing ever for a peaceful night's sleep without all of the tossing and turning. If you seek pain relief in your hips and shoulders, it doesn't get better than this..." -A. Pellera  
★★★★★
"We've been sleeping on this for about a week now, and we both love it. So comfy and cushy, hugs your body, very happy with the purchase." - M. Heriford  
★★★★★
"Very high quality. Great value for your money. Very supportive and soft. Do yourself a favor and give it the full 48 hours before you sleep on it to really get the full effect and a fair first impression. It gets better every day even after the recommended 2-day waiting period." -K. Pettersen 
★★★★★
"It's hard to explain, but it is soft without sinking into it. We have a Serta pillowtop mattress that failed and sunk in the middle after only a few months of bliss. My husband wants a firm mattress and I can't sleep on firm.  We both have neck and back issues. THIS topper seems strangely suited to both of us…" - C. Lamb 
★★★★★

Will this mattress topper make my mattress firmer or softer?
This mattress topper adds a plush, yet supportive layer to a mattress that is too firm. However, it can add an extra layer of comfort to any mattress. 
Is it recommended to rotate the mattress topper at regular intervals?
Yes, rotating your mattress topper will allow for even wear, so that it lasts longer. 
Is this mattress topper washable?
Memory foam cannot be washed, only spot cleaned. 
Can this topper be used on an adjustable bed?
Yes, it can.